With the digital business card your data is available to be edited and shared whenever you want
The information you put on your business card through our app can be shared with people and they can save it on their smartphone
Download our app now and create
your Digital Business Card
At any time, a client or friend can point his smartphone camera at the QR Code stamped on your smartphone screen or even on your paper business card to grab your business card.
All the information you provided on your digital business card will automatically be loaded on her smartphone: name, telephone numbers, emails, company website, social networks, area of activity, position, and address.
Whenever you update the information, all the people who captured your Digital Business Card can be notified (via the app), and when they open the notification, they will already have the updated information! Isn't that cool?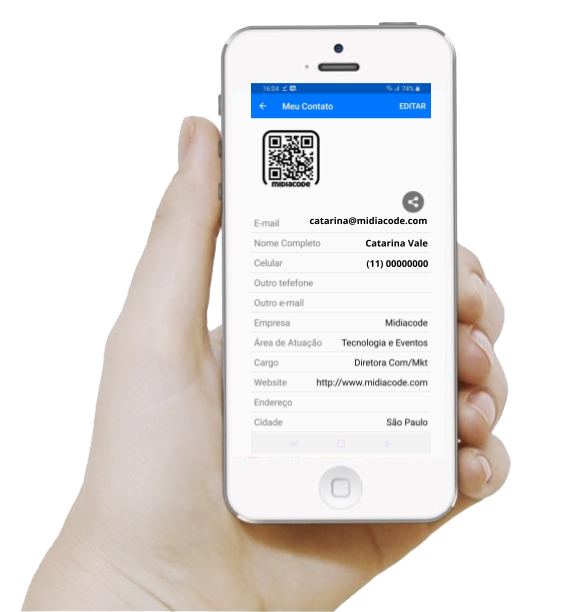 Make your
BRAND more
INTELLIGENT
with our
TECHNOLOGY
SHARING YOUR DIGITAL BUSINESS CARD
How to set up your DIGITAL BUSINESS CARD with Midiacode, in a few steps...
To start your digital business card, please follow the basic steps below.
You have two ways to start using Midiacode digital business card: personal use and corporative use. 
Individual use
Our Digital Business Card, for individual use, is FREE!
1) Install the super app MIDIACODE on your smartphone.
2) Login with an account. It can be made via email or social login (Facebook or Google).
3) Access the Profile button, which is the right lower button on-screen, and fill in the information you want to share on your Digital Business Card.
4) After saving the card, your QR Code will automatically show your brand new Digital Business Card.
5) Show the QR Code to anybody you want to share your Digital Business Card with. They just need to use the smartphone's camera.
Corporate use
Our Digital Business Card, for Corporate use, is paid!
1) Login at Midiacode Studio and get to your account; upgrade and select the plan according to the number of Digital Business Cards your company will need. For each Business Card, you will use one Dynamic QR Code.
2) After paying, you will get a welcome message in your email.
3) Create the Digital Business Cards by accessing the option CREATE BUSINESS CARD.
4) Follow the instructions on the screen.
We are the most complete solution for Corporate Digital Business Cards. But we are also the most affordable! Isn't it awesome?
Do you have any questions?